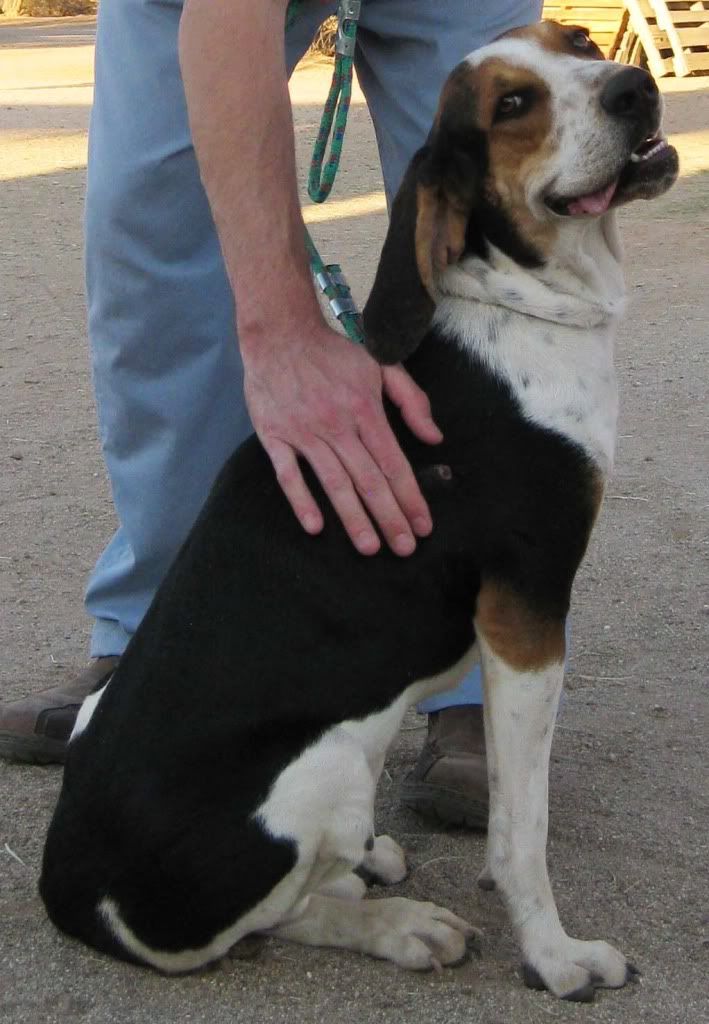 It's only been two weeks since we said goodbye to our boy. After only a few days, a stray showed up where our horse is boarded. The barn owner thought of us immediately. Of course, she understood our loss. But, she called us right away with the news of this wonderful girl. I decided I wasn't ready. Although I have been very resistant to the idea, I have also been selling myself on it while trying to find her a home. As I tell people about what a wonderful girl she is, I find myself wanting to take her in more and more.
She is a cute hound mix. She looks like a cross between a Beagle and Basset Hound with long legs. When she sits and stretches her head back to look at you standing behind her, you just melt. I guess I am a sucker for a cute face. She would definitely need some work on the leash, but that is an easy task. We don't know about her inside habits, as she is living in a goat pen because the barn owner's dog hates her unfortunately.
My family brought her to our house the other day to see how our other dog and her get along. It seemed to go pretty well. I know it would work out if we took her in. We have already named her Florabelle. I guess that makes it even tougher for us to find her a home besides our own.
When we were in the process of adopting Douglas in 2005, we had to let our Doberman go. We postponed the adoption for a little while, but continued. Now he is gone, and we are in a similar situation. Everyone has his or her own "rules" on how long we should wait. But, it is funny how things just happen. Finding a family companion just happens. You don't always go looking for it.