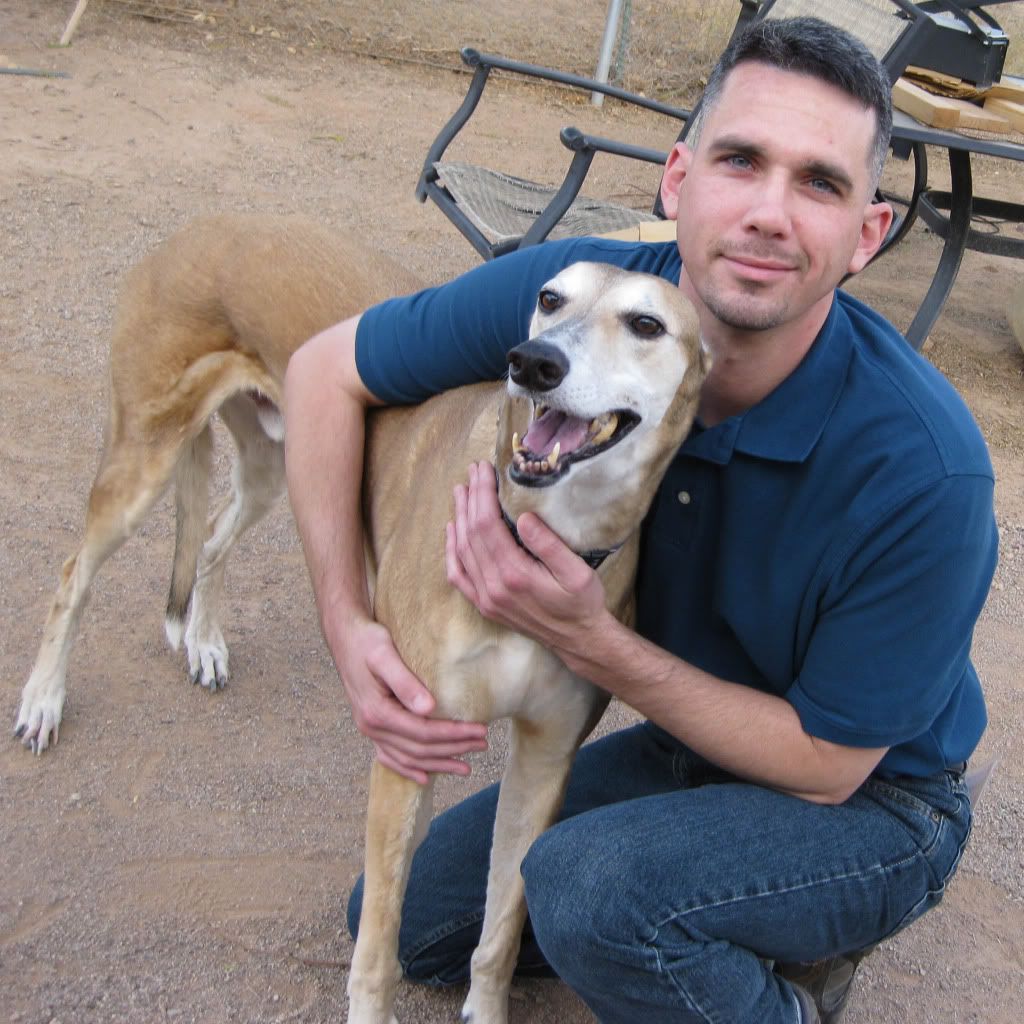 Douglas started his life April 5, 2001 as Zam Lenny Go, offspring of the sire Molotov (record breaking racer in the US Hall of Fame) and dam Lenny Lumina. He raced from August 2002 until July 2004. 2003 was the highlight of his career, when he won half of his races, and retired from racing in 2004.
He found his way to Arizona Greyhound Rescue in Tucson, AZ. That is where we found him in December 2004. He was a standout dog that was very handsome. We couldn't help but be drawn to him and took him home. AGR renamed him Douglas after an Arizona City, which we chose to keep. It was a fine name for such a fine animal. "Doug the Dog."
Douglas spent much of his time "roaching" (lying on his back) on his bed. He seemed to enjoy just lying around with us. But he did enjoy occasionally showing off his speed. We would take him in the back yard and get him going. Boy was he fast! Then he would go back inside and sleep until it was time to go to bed. Sometimes it seemed like he was more of a cat than a dog.
He loved people. Everyone that came in the door was met with great enthusiasm, sometimes too much. He would quiver with excitement and jump up on people. Not good for an 80 pound dog to be jumping up on you and stepping on your feet. Once you starting giving him some loving, he would calm down and just enjoy it.
Douglas and I were the only ones in the house who liked cheese crackers. So, I would open a bag, he would come running, and I would "accidentally" drop some on the floor as I ate them. He would happily clean them up for me. Those were some of our greatest bonding moments.
In 2009, he started showing signs of lameness in his right front leg. We thought it might have been a thorn in his paw from a mesquite tree at some point. It persisted and we took him to the vet to investigate it further. We eventually found out that it was bone cancer.
There were a few options, which included amputation, that didn't really give him great longevity that was worth the treatment. So we decided to just manage the pain that he had in his leg. After a while, the pain medications that we were giving him just weren't enough. He would still wake up in the middle of the night growling and whining. We would give him even more, but then he was just intoxicated from the medication most of the time. It was time to say good-bye to Douglas.
On September 12, 2009, we said our final good-byes to him. He was the first animal that I have been so close to since I was a child. His funny moments and his quirks were what made him Douglas.
I miss my boy.